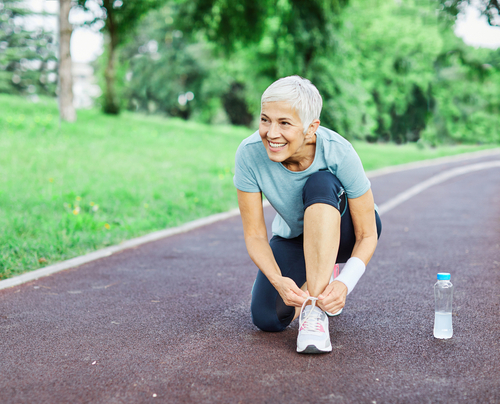 I vividly recall my first Feldenkrais lesson in Oxford 1999. I emerged loving the liberating connected feeling in my body, not having a clue what I'd just done and intuitively aware that this was more than my nervous system responding. And so my Fascia and connective tissue learning had begun. I feel deeply blessed to have trained with remarkable teachers and manual practitioners over the last 20 years such as Joanne Avison, Giovanni Felicioni, Tom Myers, Robert Schleip, Eric Franklin, Leda Franklin and Elizabeth Larkam. Like many Pilates teachers my biggest demographic curve is the menopausal population. That vast umbrella term 'Menopause' explains many conditions which are, sadly, often treated in isolation.
When you research 'Menopause and Fascia' papers pop up, including "Impact of menopause on collagen subtypes in the Marcus tendinous fasciae pelvis"[1] along with "Changes in extracellular matrix proteins in the cardinal ligaments of post-menopausal women with or without prolapse: a computerised immunohistomorphometric analysis"[2]. But of most direct practical interest to me as a teacher on the shop floor is the research "Hormone Receptor Expression in Human Fascial Tissue"[3] If you're not familiar with it please take a read. I don't profess to understand the science but the meaning I gleaned is that women, due to the prevalence of hormone receptors, experience more myofascial pain than men. Speak to most manual therapists and they will verify that in their experience tissue issues change with hormonal cycles, more or less pain, more or less proprioception, healing and strength.
Menopause remains a taboo subject for many. GPs in the UK have no mandatory training in menopause. If my menopausal client presents to her GP with Plantar Fasciitis, Frozen Shoulder, Achilles Tendonitis, Carpal Tunnel Syndrome or Cubital Tunnel Syndrome, the chances are she will be given pain killers, physio (maybe) and eventually possibly a steroid injection – the condition will be treated in isolation. Said client arrives in my studio tearful, anxious, sleep-deprived, dizzy, in pain and at a loss as to why her body seems to have gone out of control – MENOPAUSE. I help her join the dots. Oestrogen is the governing hormone in the female body, we have receptors everywhere. Depletion in menopause can stir up old scars (episiotomy scars can tear) and injuries. Oestrogen and testosterone act as anti-inflammatory agents so we lose their protection. Women can feel more pain, have poorer proprioception, injure more easily, heal more slowly. Areas of strain may suddenly become inflamed, hypermobile tissue issues can be exacerbated and exercise and self-care practice often needs a total overhaul.
Sarcopenia comes with age – it often starts in the menopause transition, with loss of muscle tone and mass. Most women don't know their muscular skeletal (connective tissue) system can be impacted by menopause – it's time they did. If you have an understanding of what is happening to you, the fear that comes with pain can be tackled. The role of new generation Body Identical Hormone Replacement Therapy, a transdermal application made from yams, needs to be viewed in this context also. Hormone Replacement Therapy treats the whole system and helps to rebalance the context.
When I work with a client I hear their story, as no one knows their body as well as they do. I listen. Like many therapists I hear between the words. As a teacher I do not diagnose. I take a thorough history of body-wide client experience – from pathologies to what makes them feel relaxed and happy. We talk about hormone health and establish where on the pre to post-menopausal scale they are currently sitting. For example, a client presenting with the symptoms of plantar fasciitis but undiagnosed as such I will refer to a manual therapist. I have a wide network of connections in the therapeutic world, built up over the last 23 years. Again, in listening to my client, and with the aim of facilitating change for them I will offer one or two practitioners for them to contact. Of course, if they have not seen their GP then this is also the possible first port of call, depending on their preference. If the client is unaware of the impact of hormonal depletion on her system I will explain the connection, why plantar fasciitis is a symptom in menopause and the role that HRT can play in assisting healing.
If the client arrives in my studio with a diagnosis of Plantar Fasciitis then, in addition to the above, we would begin an exercise regime which includes self-massage, release work and strength work. Foot exercises, Achilles and calf work, hamstring work and all the way of, course, up the body to include spinal work. We may use spiky/smooth small balls, a foam roller, a theraband, the skirting board, and any props that work for this client. I am a big advocate of manual therapy with movement practice and always encourage my clients to consider such self- care as an ongoing lifestyle.
https://www.instagram.com/menopausepilates/?hl=en
A fuller version of this article appears in the Members' Area with a contribution by Jenny Wickford
---
[1] P.A. Moalli MD, PhD, S.C. Watkins PhD American Journal of Obstetrics and Gynaecology Volume 190, Issue 3, March 2004 pages 620-627. https://mageewomens.org/investigator/pamela-moalli-md-ph-d [Accessed 3.6.21]
[2] Ayman AA Ewies, Farook Al-Azzawi, John Thompson. Human Reproduction 18 (10) 2189-2195, 2003. https://academic.oup.com/humrep/article/18/10/2189/622760?login=true [Accessed 3.6.21]
[3] C. Fede, G. Albertin and C. Stecco. European Journal of Histochemistry, November 2nd 2016. https://www.ncbi.nlm.nih.gov/pmc/articles/PMC5134680/ [Accessed 3.6.21]
There are many benefits to joining The Fascia Hub community. We will be continually revising and updating how we can better support our members.  Of course, if you have any ideas or thoughts as to what you would like to see, then we would love to hear from you.    Our membership proposition is continually evolving and changing to ensure that we bring you the best from the world of fascia.  If there is something you would like to learn more about, please do drop us a line and let us know.