Date: 24th-25th July 2021
Time: Two-day event 9.30 – 16.00
Presenter: Robert Schleip, Dr. biol.hum., Dipl.Psych
Title: A Fascial Perspective for Working with Scars and Adhesions
Price:
Non-members - £270.00
The Fascia Hub members - £220.00
If you are unable to join Robert for this two-day online event, a recording will be available at a later date and for sale via The Fascia Hub website. However, this will be limited to the training sessions and will not include the personal interaction groups. Places for this event are limited to 100.
The workshop outline will be as follows (click here to see the format of the course)
24 July 2021
09:30 – 11:00 Morphology & physiology of fascial tissues
11:30 – 13:00 Development of different scar and adhesion types
14:30 – 16:00 Practice: Demonstration of specific working techniques
25 July 2021
09:30 – 11:00 Regulation of wound repair and fibrotic pathologies
11:30 – 13:00 Re-hydration and de-hydration; fluid shear 14:30 – 16:00 Practice: Demonstration of specific working techniques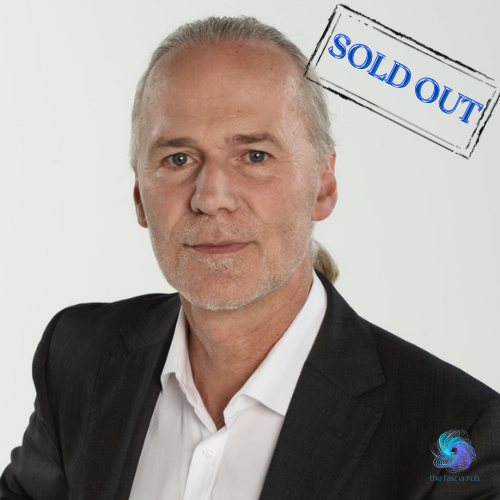 We will take you on a journey to explore fascial tissues, different scar adhesion types, regulation of wound repair and the impact of hydration on the body.
As a special bonus to those attending the workshop, each participant will receive access to 9 additional lectures from the fascia research field. These non-public lectures will be available for your further study until the end of December 2022.
Antonio Stecco: Fascial densification
Paul Hodges: Neuromotor control and fascial interactions
Caterina Fede: The cells of fascia and their receptors
Nathaly Gaudreault: The challenges of palpation
Winfried Neuhuber: Fascial innervation
Carla Stecco: Fascial aspects of the pelvic floor
Robert Schleip: Fascial aspects on proprioception, interoception and sympathetic innervation
Robert Schleip: Matrix hydration. New inspiration from fascia science for bodywork practitioners
Robert Schleip: Connective tissues in sports medicine
Most of the workshop will be conducted via Zoom. Participants will receive a certificate of attendance. Questions from participants will be regularly included via the chatbox. In addition, a special Tea Chat Room allows small group interaction with the presenter. This virtual room has been proven to provide an excellent social forum for addressing more personal questions and specific topics.
Please note:
You will be responsible for ensuring your wifi signal is strong so that you benefit fully from the day. No responsibility is accepted by The Fascia Hub or Dr Robert Schleip for signal problems.
A few days before the event you will be emailed a link to register for the Zoom meeting. You may contact jan@thefasciahub.com with any registration issues.
Your name and email address will be passed by The Fascia Hub to Dr Robert Schleip only.
Dr Robert Schleip is a human biologist and psychologist specialising in fascia research. He is co-founder of the ground breaking International Fascia Research Congress, which takes place every three years in different venues globally. His passion is fascia and research into the subject, and for this he is renowned.  Robert organised the event "CONNECT - Connective Tissues in Sports Medicine" in 2013, 2017 and 2021, together with the sports physician Prof. Jürgen Steinacker.  He is also Executive Research Director of the European Rolfing Association, Vice President of the Ida P. Rolf Research Foundation and Board Member of the Fascia Research Society.
Researcher, lecturer, author and publisher, Robert Schleip is one of the most recognised faces in the world of fascia and inspires a huge following. His most recent book is the second edition of Fascia, Sport and Movement, co-edited with Jan Wilke and published by Handspring Publishing.
To discover more about Robert and his work please click here to visit his website.
This event is now sold out. Robert will be returning for us again on 15/16 January and members will have priority booking. Watch this space for your emails to let you know when your emails to see when booking opens.
There are many benefits to joining The Fascia Hub community. We will be continually revising and updating how we can better support our members.  Of course, if you have any ideas or thoughts as to what you would like to see, then we would love to hear from you.    Our membership proposition is continually evolving and changing to ensure that we bring you the best from the world of fascia.  If there is something you would like to learn more about, please do drop us a line and let us know.