Date: Thursday 25th August
Time: 19.00 – 20.00 UK time. Check your timezone here
Presenters: Anna Crowle and Claire Sparrow
Title: Pelvic Organ Prolapse – the principles of a combined approach
The webinar will be uploaded to the Members' Area within 72 hours of the event for free access by our members.
Join Anna Crowle and Claire Sparrow for a discussion on approaching Pelvic Organ Prolapse based on biotensegrity principles.
Part 1: Anna will introduce her research and the application of biotensegrity principles to Pelvic Organ Prolapse
Part 2: Claire will explain the application of Anna's research & biotensegrity principles through movement & Pilates in women with POP.
Part 3: Practitioner collaboration. Anna and Claire explain their collaborative process, and how and when to refer this client group.
Part 4: Three key categories of POP clients. Breakdown of the three categories, what and how they treat and teach them.
Anna Crowle:
As an experienced physiotherapist, who is also trained in osteopathic, clinical massage and advanced myofascial methods, I integrate different techniques to get to the root cause of pain.
Treatment includes a full assessment of what is causing your pain, looking at your posture, movement habits and old injuries etc to map out how they influence your symptoms. Problem areas are then targeted with hands on treatments to effectively reduce or resolve your pain
Claire Sparrow:
Mum of 3 Claire Sparrow is a Second Generation Pilates teacher, Polestar Pilates Educator & Pilates studio owner since 2005 where she specialises in women's health & Post-Graduate Pilates Education.  Claire is a straight-talking and inspiring Scottswomen with an inclusive and rigorous approach to teaching Pilates. She has an absolute passion for all things Pilates, building communities and inspiring and supporting people to discover the possibilities within themselves, all whilst maintaining a sense of humour.
Claire is the living embodiment of "you are the architect of your own happiness".  After discovering Pilates in 1998 as a young dance student when it resolved her debilitating knee injury she has been evangelical about the benefits ever since. Teaching since 2002, Claire has a wealth of qualifications and never stops learning - training with Pilates Institute, Fit To Deliver, APPI, STOTT, Natural Bodies and of course Polestar, and most recently, becoming a Second Generation Teacher graduating from the Lolita San Miguel Master Mentorship Program 2019. Claire founded her Online Studio in 2020 to create accessible education for women with pelvic health conditions & teachers from apprenticeship programs bridging the gap between training and teaching to specialist mentoring in Pelvic Health & how to balance self care with an efficient teaching schedule.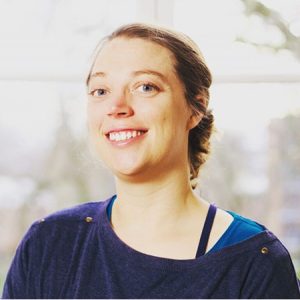 25th August 2022 - 19:00 UK time
There are many benefits to joining The Fascia Hub community. We will be continually revising and updating how we can better support our members.  Of course, if you have any ideas or thoughts as to what you would like to see, then we would love to hear from you.    Our membership proposition is continually evolving and changing to ensure that we bring you the best from the world of fascia.  If there is something you would like to learn more about, please do drop us a line and let us know.